Steel and Wood Beam Design Software
Design your next steel or wood beam in minutes.
Start Designing
Trusted by engineers, architects and construction professionals around the world. WebStructural makes steel and wood beam design quick and easy.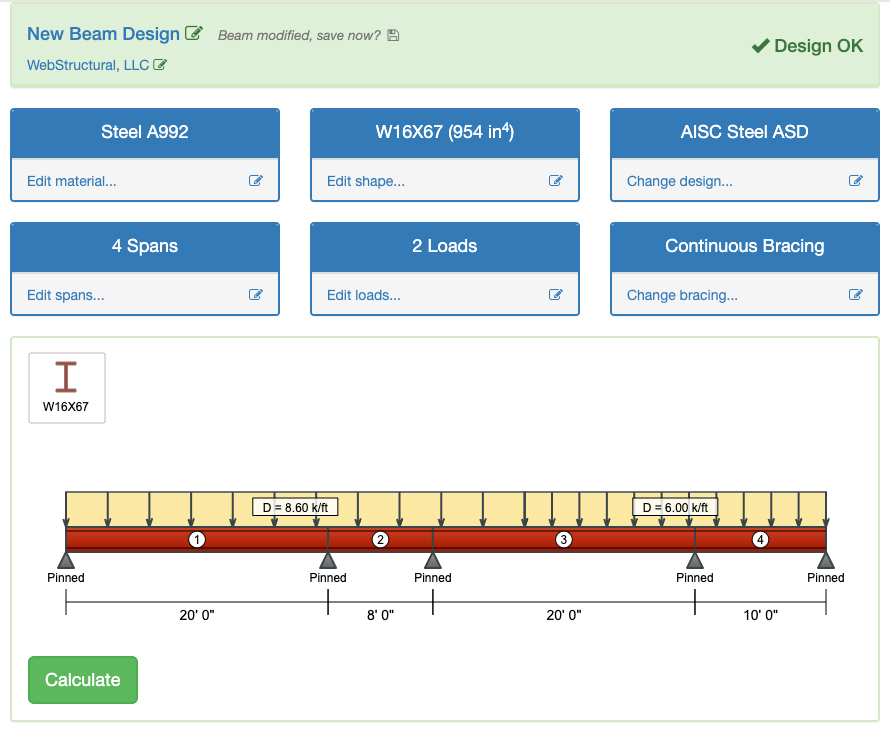 Beam Designer
Design multi-span beams with complex loads. An interactive drawing area allows you to design beams in minutes. Use the free version as much as you like.
AISC 360-16 & 2018 NDS Design
Steel and wood design with ASCE 7-16 LRFD, ASCE 7-16 ASD and 2018 NDS design checks and load combinations.
Steel, Wood and Custom Shapes
Choose from an extensive shape library of common steel, lumber and engineering lumber shapes, including flitch wood beams. Analysis and capcity check for custom shapes.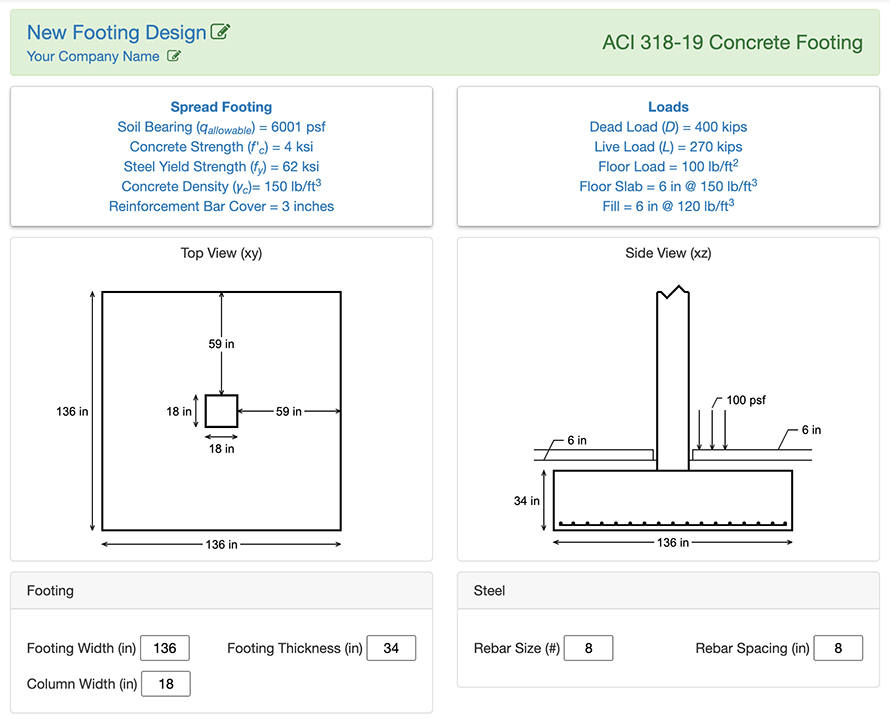 Concrete Footing Designer
Quick and easy concrete spread footing designer.
ACI 318-19 Concrete Footings
Design footings based on allowable bearing pressure, one-way shear, two-way shear, flexure strength, reinforcement bar development, column bearing and footing bearing loads.
Comprehensive Design Parameters
Include dead loads, live loads, floor slab weight, floor load, fill (overburden) loads and steel reinforcement configurations.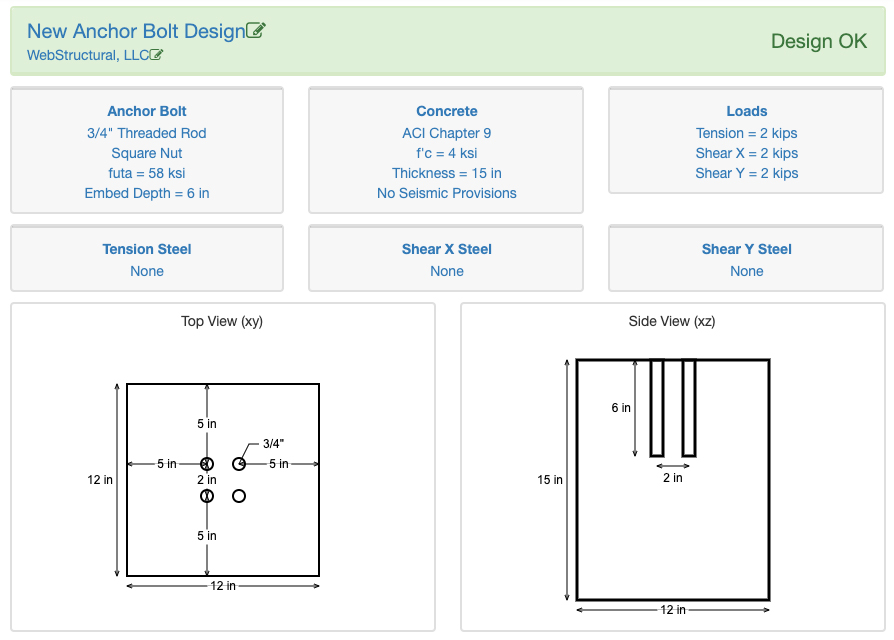 Anchor Bolt Designer
Quick and easy concrete anchor bolt design supporting common bolt types and reinforcing steel configurations.
ACI 318 Design with Common Bolt Types
Threaded Rods
Headed Bolts
Headed Studs
Hooked Bolts
With or without grout pads.
Multiple Load Factors
ACI 318 Appendix C and ACI 318 Chapter 9 Load Factors. With or without seismic provisions.
Modern structural analysis software is pretty amazing, but sometimes you just need to design a beam. WebStructural makes sizing steel and wood beams quick, easy and accurate. There's nothing to install and everything is synced to the cloud. Try it free, you might be surprised at just how easy it is to design your next beam.
| | | |
| --- | --- | --- |
| AISC Steel Shapes | European Steel Shapes | Visually Graded Lumber |
| Engineered Lumber LVL and PSL | Custom Shapes & Materials | ASCE 7-16 LRFD & ASD Load Combinations |
| AISC 360-16 Steel Design | NDS Wood Design | Simple Demand vs Capcity Checks |
| Multiple Spans | Flitch Wood Design | Save and Print Projects |
Free, easy to use structural analysis and design software
Use the Basic level to design simple steel and wood beams. Use it as much as you like. Upgrade to Pro for $19 monthly when you're ready to start saving projects and printing.
Basic
Free
Steel and Wood Beam Design
AISC and NDS Specifications
LRFD and ASD Load Combinations
2 Span Limit
Start Designing
Pro
$19/mo
Save and Print Designs
Multi Ply Lumber
LVL and PSL Engineered Lumber
Up to 10 Spans
Upgrade